Teleprompter Mirror
Optical quality teleprompter mirrors, also known as dielectric beamsplitter mirrors, allow a camera to record through with flawless picture quality, while providing a crisp reflection of your text.  We supply the exact same mirrors used in expensive teleprompters costing $20,000 and more. The reflective side has a tint-free mirror coating, and the backside has an antireflective coating to prevent a double image seen in cheap teleprompter glass known as "ghosting." In addition to squares and rectangles, we also offer trapezoids and other shapes.
Features
Optical Grade – Dielectric beamsplitter technology provides tint-free light transmission

Fast Shipping – We are standing by to cut and ship your order immediately.

Expert Packaging – Carefully packed and fully insured to protect your investment.

Sanded Edges – The edges of the mirrors are carefully sanded for your protection

Durable Coating – Clean with standard glass cleaner and paper towels

Worldwide Service – We carefully package and ship the mirrors from the USA.

Guaranteed Quality – Engineered for exceptional optics.
Sam Tucker of Samtime demos our teleprompter mirror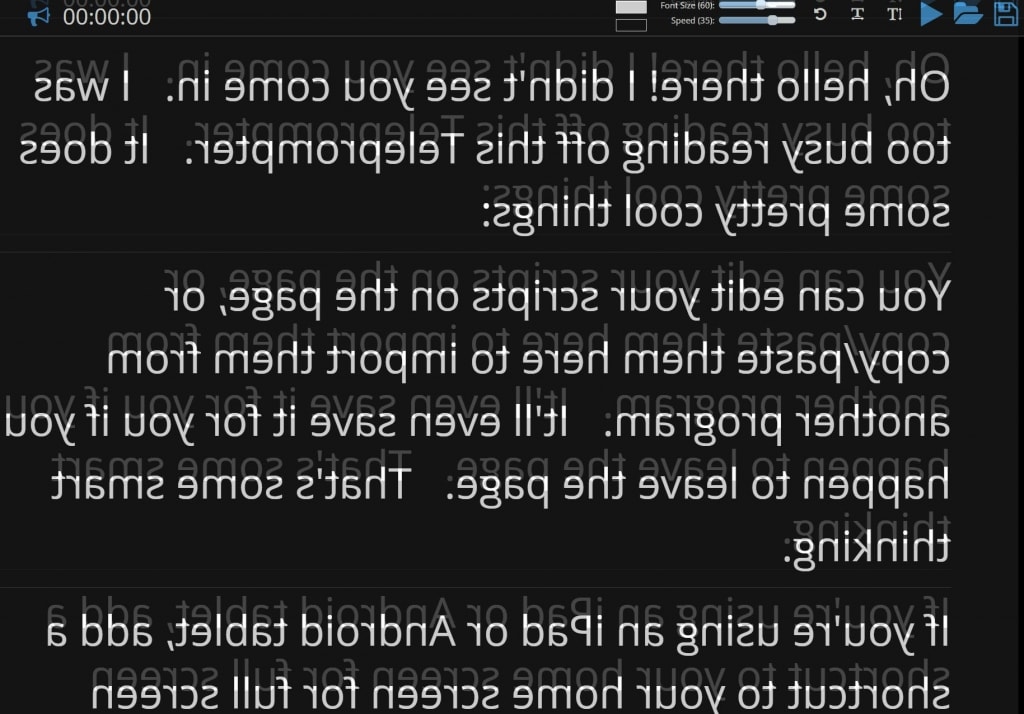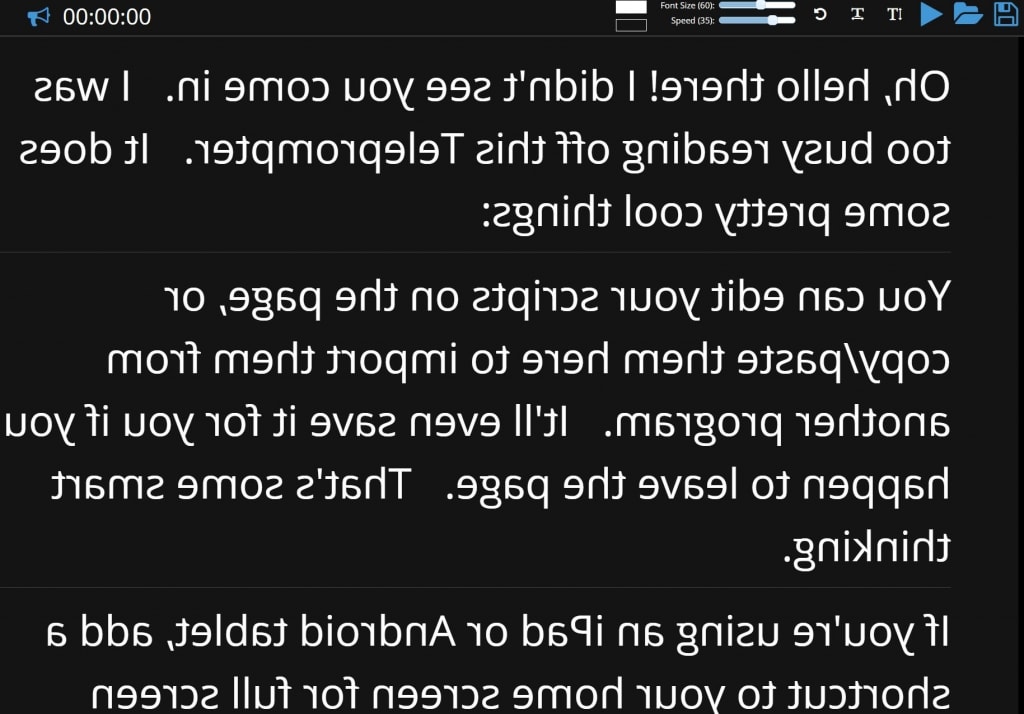 Regular Glass vs Beamsplitter
Ghosting, also known as a double image, causes headaches and makes it difficult to read text off ordinary glass or a two way mirror. A teleprompter mirror has an anti-reflective backside, eliminating the double reflection. When installing a teleprompter mirror, make sure the mirror side is closer to the talent (and is the side reflecting the text) to ensure there is no double image. The non-mirror side, which has an anti-reflective coating, will face the camera or audience.
To find the mirror side of a teleprompter mirror, use the "fingernail test." Place your finger on the glass. If there is no gap between your finger and its reflection, that is the mirror side.
How To Make A Teleprompter
A teleprompter is easy to make if you know how. The hard part is finding the glass that goes in it. You can't just use clear window glass because of the severe double reflection. We are able to cut the beamsplitter glass cut to the exact size you need for your project.
Hannah shows how you can make a teleprompter
Transparency:
30R/70T stands for 30% reflective, 70% transparent. 40R/60T is slightly more reflective, while still offering great tint-free transparency for the camera. Most clients choose 40R/60T for the best of both worlds, but we offer both options to accommodate manufacturers and enthusiasts seeking a certain specification for their units.
3mm vs 4mm Thickness:
Optically, they are practically the same. 3mm is about half as strong as 4mm, so it's only preferred for applications where you're trying to fit the glass into a tight groove (an existing teleprompter you already own), or where you need a lightweight mirror. 4mm is stronger so that's what many clients order.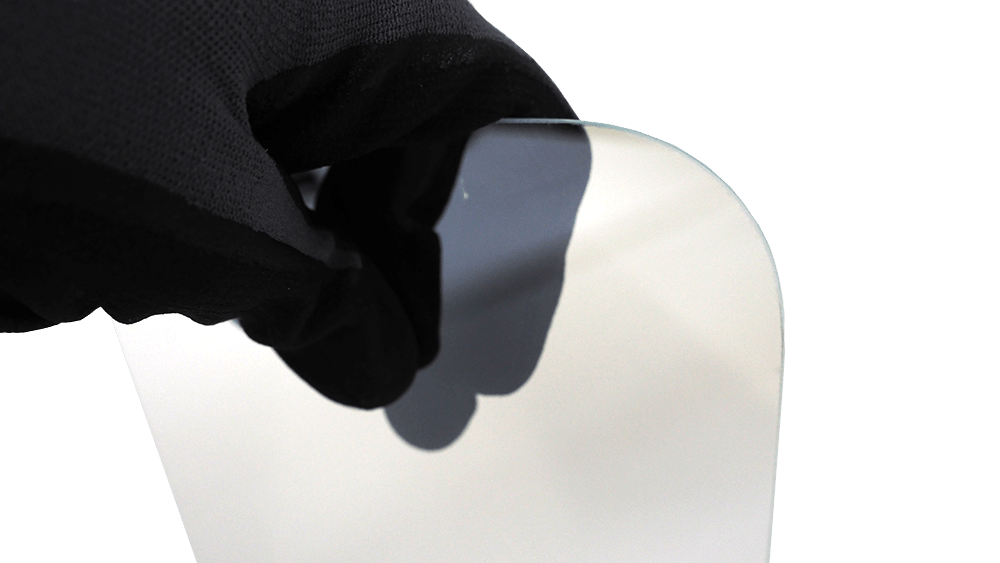 Standard vs Rounded Corners:
Standard corners are ideal for best price and going in a frame. Rounded corners offer a stylistic advantages when the edges are exposed, and avoid getting snagged on clothing in a presidential teleprompter setup (they're less likely to be bumped).
Frequently Asked Questions
How does a teleprompter mirror work?
An optical grade teleprompter mirror is created by dipping large sheets of low iron glass (color neutral) into a solution of dielectric filters (nanotechnology), which is then baked on for a permanent, highly durable bond. The dielectric mirror allows a precise percentage of the light to pass though while reflecting the remainder. Before the use of dielectric coatings, the old fashioned way of making beamsplitter glass was to apply a thin layer of silver nitrate and other metals (to prevent oxidation/tarnishing). This technique worked fairly well, but the resulting mirrors were tinted and easily scratched.
What is the difference between a two way mirror and teleprompter mirror?
They are both semi-transparent mirrors, but that's where the similarity ends. The main difference is how well you can see through it. The coating on a teleprompter (beamsplitter) mirror is thinner, allowing more light to pass through. It's more transparent and less opaque than a standard two way mirror, which is intended for security, not viewability. The coating of a teleprompter mirror is dielectric instead of metallic, which allows it to be color neutral (untinted).
What angles does the mirror work at?
Works great from any angle. When teleprompting, the glass is typical angled slightly more than 45 degrees for easy reading. For other applications, it's usually at a 90 degree angle for observation (makeup mirror, model photography, animal observation).
How good is the quality?
By combining dielectric mirror technology with low iron glass, we are able to achieve the best quality on the market.
Can I purchase in wholesale quantity?
Yes, most of our sales are to teleprompter manufacturers. Bulk quantity shipments are our specialty. Please email us with the size, quantity, and address for a fast quote.
What kind of mirror coating is it?
A dielectric beamsplitter coating is applied to low iron glass, which is a non-metallic, non-conductive mirror coating. This provides a much higher quality than standard metal coatings on soda lime float glass.
How should I clean a beamsplitter?
Our dielectric coating is extremely durable, and can be cleaned with standard, non-ammonia glass cleaner and paper towels. Although not necessary, cleaning them with lens cleaner and microfiber wipes also works well.
What's the largest size you can make?
We can make up to 49″x70″ in 3mm and 4mm, and up to 69″x126″ in 6mm thickness.
How accurate is your cutting?
Our size tolerance is typically +/- 1/16″ (1.5mm) unless otherwise specified.
Can you cut different shapes other than a rectangle?
Yes, we can cut circles, trapezoids, and other shapes. For a custom quote, please email us a diagram along with the delivery address for shipping rates.
Are the mirrors sharp?
We make sure the mirrors are wet sanded for your safety.
If I want to cut the mirrors, what tools should I use?
They cut just like regular glass. You can use a standard score-and-break method with running pliers and cutting wheel.
Most popular sizes for iPad & laptop?
The most popular sizes are 8″x10″ for iPad and 11″x14″ for laptops.
How fast can you ship my order?
We are standing by waiting to cut and ship your order. Our priority is getting your order shipped quickly and accurately.
Do you ship outside the US?
Yes, international shipping is routine for us. We will prepare all paperwork accurately to ensure a fast, easy delivery. Typically shipments via Economy arrive in one week, and Priority arrives in 2-3 days to many countries (Canada is usually 1 day). Please note that you will need to pay duties & taxes separately, which is charged on delivery by FedEx.
How do you package glass so that it doesn't break?
We have over 15 years experience using the ideal packaging for each shipment, which is typically foam, bubble wrap, and edge protectors. We crate larger shipments. Our shipments are fully insured for your protection. Please inspect items on delivery when possible. If your shipment should arrive broken, please take a photo of the damaged box/crate (including shipping label), and a photo of the broken product, and we will be able to ship your replacement.
Can I paint the back to increase the reflection?
Yes, you can paint any part of the uncoated side with paint (spray or roll on) that is designed for glass surfaces such Rust-o-leum UltraCover 2x or High Heat, which you can find at Lowe's, Home Depot, or Walmart. Make sure there is still an area in the center for the camera to shoot through. The best color to use is black (blends in with unpainted area the best). Be sure not to use silver or white paint. Mask off the area you don't want to paint with blue painters tape. Important: use only Scotch Edge Lock painters tape for best results. Press hard on the tape to ensure paint doesn't get under it. Practice on a sample mirror first to make sure you're getting the desired effect.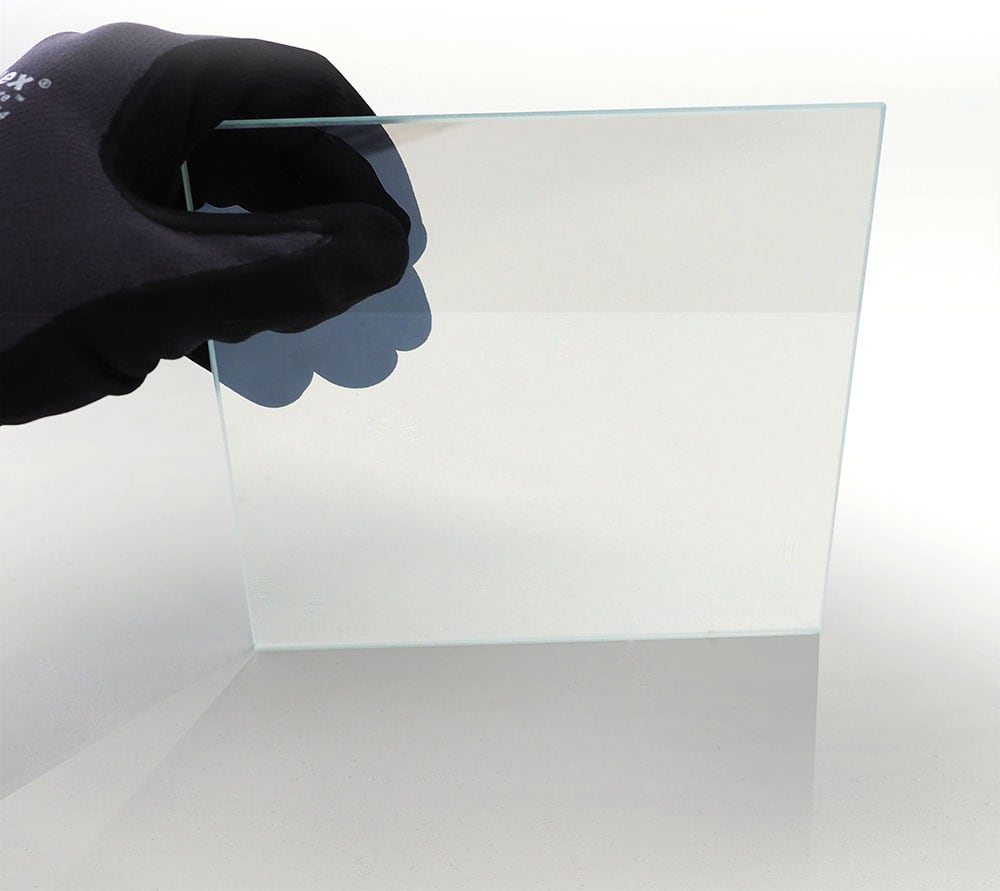 Can I use the mirror for photography, modeling, or makeup?
Yes, works great for recording through while seeing your reflection. To make the mirror more reflective, many of our clients paint the back black, or use a black vinyl to mask off the back, except for the camera area.
Technical Specification
Download optical beamsplitter specification.
Fast Shipping
Mirrors are standing by to be ordered by you!
Available Worldwide
Ships from the old ol' U.S. of A.
Sam Tucker of SAMTIME fame demonstrates the presidential teleprompter in this remarkable, groundbreaking video. We paid him to do this, obviously.
Our optical quality teleprompter mirrors, also known as beamsplitter mirrors, allow your camera to record with flawless picture quality.
Teleprompter Mastery Course (2019) Learn Pro Level Tips & Tricks and Avoid Painful Mistakes
How to use beamsplitter glass to create a Presidential Teleprompter
Hate it? Just send it back within 90 days for a refund.
We are standing by to cut and box your mirror immediately.
Order a sample of our optical quality glass without breaking the bank.
Like the Executive model, minus the camera mount.
Ideal for models, actors, & makeup tutorials.