Trapezoid Teleprompter Mirror
Trapezoidal teleprompter mirrors have been specifically designed and used for years in TV productions. The outward sloping angle of the glass allows for a wider viewing angle, without creating problems of "fall off". When anchors or speakers are turning from one camera to another, the trapezoidal glass allows for off-axis viewing for multiple talent.
Height

Width 1

Width 2

Unit

Transparency

Thickness

Quantity

Calculate

Unit Price

Cart

$0.00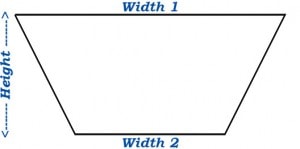 If you are ordering a custom size trapezoid teleprompter mirror use the diagram to the right to help you accurately measure your mirror. Make sure the height is the overall height from top-to-bottom, not the leg length.