Presidential Teleprompter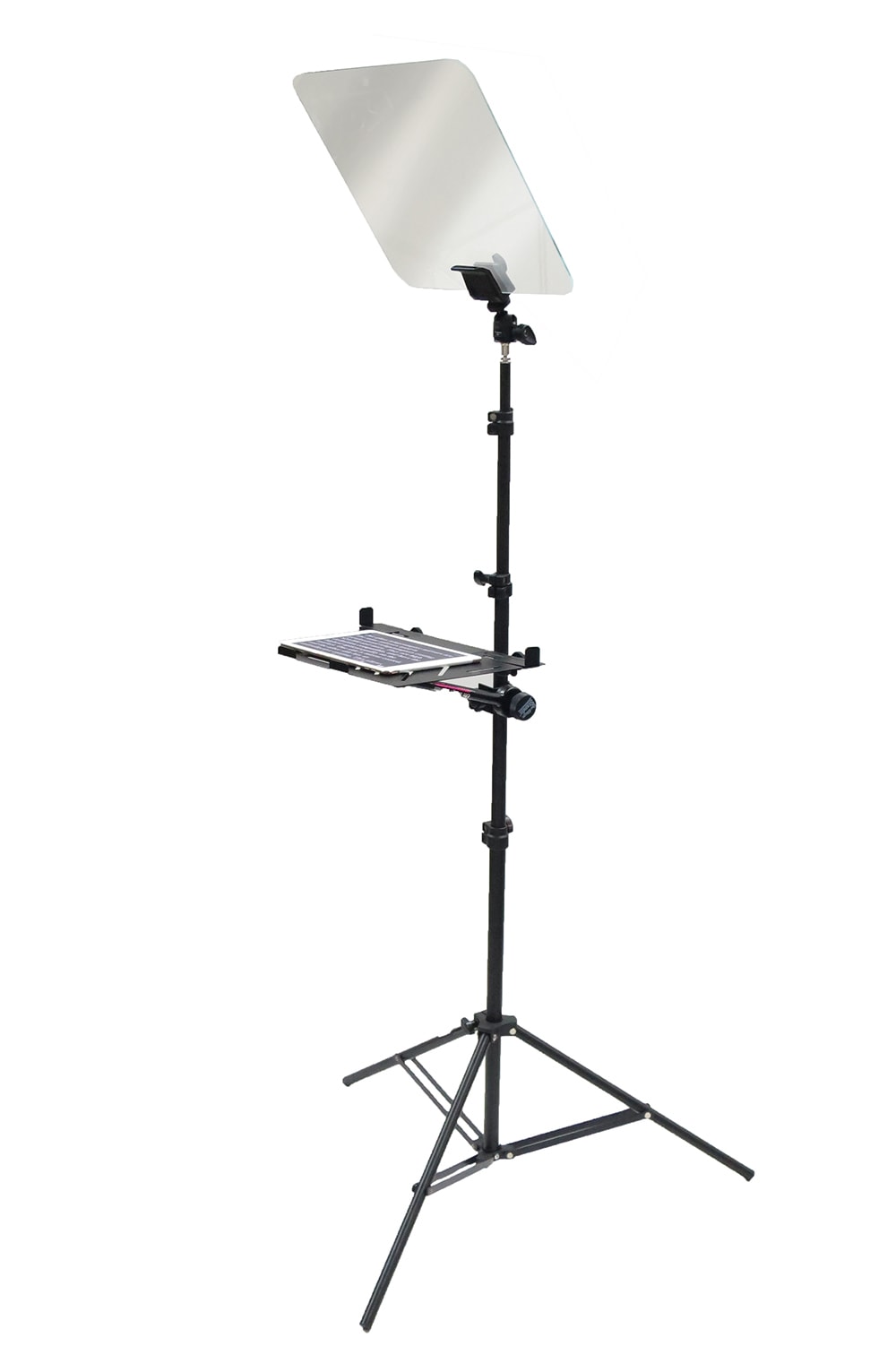 Presidential Teleprompter
The best speech is one where the speaker can maintain direct eye contact with the audience. This is easy to do with a Presidential Teleprompter, which displays text from a laptop or monitor. Not only does the presidential teleprompter allow for that constant connection, but in addition you can record through the glass when recording videos. Simply mount a tripod with camera behind it, and your Presidential Teleprompter becomes a professional recording studio. To see how it works, check out our demo videos below.
Heavy duty stand and clip prevents tipping

Instant assembly and disassembly

14″ x 14″ Optical Grade Beamsplitter Mirror

Custom size glass available

Outdoor teleprompter glass available

Compatible with 10″ to 24″ tablets, laptops, & monitors

Use with larger displays with optional stand

Free teleprompter software included

Adjustable height up to 8 ft

In stock, immediate shipping

Great value at only $799.95
Frequently Asked Questions
How fast can you ship it?
It's in stock and ready to be shipped right away.
How good is the quality?
After seeing President Obama's teleprompter break, we were inspired to create a simple, high quality design. Combining the sturdy base with a heavy duty clip prevents a lot of issues seen with other units.
Do you ship worldwide?
Yes, we can easily ship internationally from our factory in Toledo, Ohio.
Can I record through the mirror?
Yes, we include a black cloth for the backside, allowing a camera to record straight through with flawless video quality.
What displays does it work with?
The presidential works great with monitors, TVs, tablets, & laptops. For large displays (28″ or more), remove the laptop tray and use a table for improved stability.
What software does it include?
Download free software from us or sign on the Apple or Google app stores for the latest in great teleprompter software. You don't even need to use software if you're using a screen that mirror flips automatically, or an HDMI MirrorBox.
How can I control the software?
There are a lot of different devices on the market. Choose one which is compatible with your operating system: Windows, iOS, Mac, Linux, or Android. We use the Logitech Presenter Remote for our productions.
What screen size should I use?
When the laptop tray is adjusted to the top, you can read comfortably from a 10″ screen at 6ft away. For easier reading, we recommend a 32″ screen at waist height. If the screen is on the floor, a 42″ size is ideal. If you're using a large screen, simply set it on a table, such as a Pyle laptop stand.
Can I order a Presidential Teleprompter with outdoor glass, or custom size glass?
Yes, we can easily send a quote with the glass of your choice.
Sam Tucker of SAMTIME fame demonstrates the presidential teleprompter in this awesome video. We paid him to do this, obviously.
Krista takes you through the best features of the Presidential Teleprompter and teaches how to avoid painful mistakes when purchasing one.
We customized our Presidential Teleprompter with larger glass and take you inside our studio to check it out!
Looking to master your teleprompter? Our series of Teleprompter Mastery Courses takes you to the pro level.
We make it ridiculously easy to assemble. We're only a phone call away if you need any help.
We love it when our clients get as pumped about our products as we do. Check out this video review of our presidential model.
Hate it? Just send it back within 90 days and we'll refund you.
Fast Shipping
Teleprompters are standing by to be ordered by you!
Available Worldwide
Ships from the old ol' U.S. of A.
If you delay, it might still be in stock. Maybe.
Buy the optical beamsplitter by itself for your project.
Modeling & makeup teleprompter.
Sample our beamsplitter glass without breaking the bank.