You will want the mirror to be at least the size of the display you are using.
This is because as the display gets further away form the mirror, the text becomes smaller.
For comfortable viewing, I recommend a minimum of 14″ x 14″.
The mirror has a special dielectric coating on low iron glass, which minimizes tint and allows a crisp reflection of the script.
It also has an anti-reflective coating on the back side to prevent ghosting.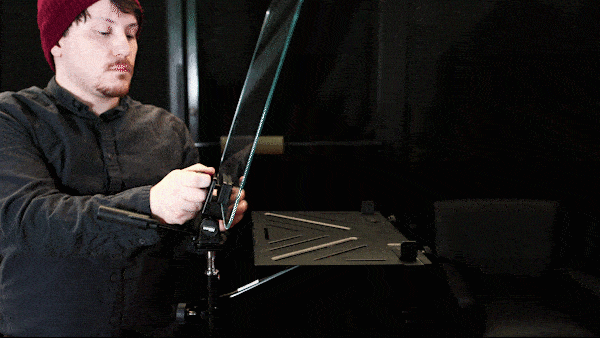 The best angle for you mirror is 45 degrees or more and you can fine tune the angle to center your display.
The mirror also has round corners that give a nice visual appearance while preventing accidental bumping and breaking.
A heavy duty light stand is the foundation of your teleprompter.
It stabilizes your unit at a minimal cost so it doesn't tip over.
The light stand is height adjustable to meet your various demands.
You can also lock  parts of the light stand to keep it secure.
When folded up, it makes easy use for travel.
Pro tip: When using a teleprompter outside, you can stake it down attached to weighted bags
3. Threaded Screw Converter Adapter
This converter adapter is used by placing it inside the combo reversible thread adapter.
This way you an connect the light stand and the mount.
It's very small, so you should be careful not to lose it.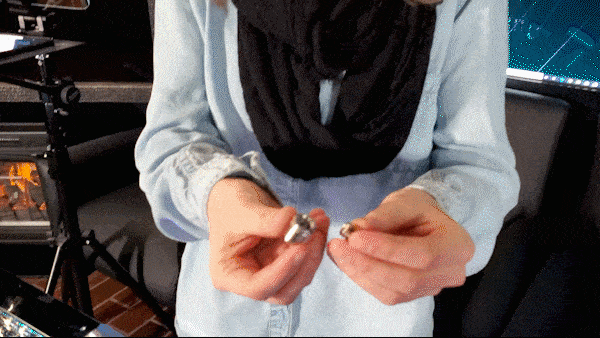 4. Combo Reversible Thread Adapter
This piece connect the light stand and the mount together.
You just want to make sure you converter adapter fits so you can connect everything all together.
The Nikon mount use used to hold your beamsplitter glass.
Normally this would be used to mount on a car for binoculars.
The pivoting head allows full range of motion
The padded clamp can firmly hold the glass and prevent scratching as well.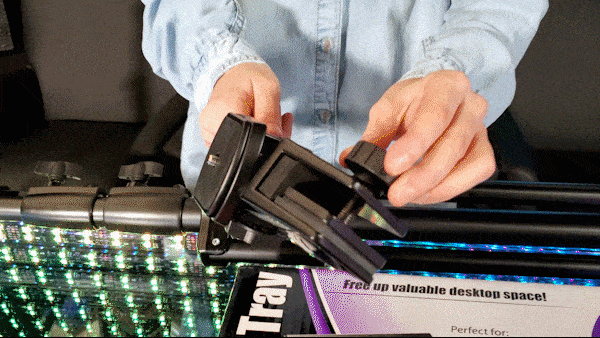 The laptop tray is used to place your IPad or tablet on to be reflected by the beamsplitter mirror.
It has punched ventilation slots that provide air circulation to keep devices cool.
The tray also includes sliding and removable tabs that adjust to accommodate the width of your tablet or IPad.
This mount microphone boom connects the laptop to the tray and also connects to the light stand.
It has rotating disks that rotate 300° and grip securely together.
It is very versatile enabling virtually limitless angels that can be locked into place.
You can clamp the mount onto the light stand and tighten the screw, which has a nylon-tip so it won't damage the light stands finish.
The tray adapter is used to connect the mount microphone boom along with the tray.
It has a over-sized lock knob that can move in a complete 360 degree rotation so you can have the connected tray in any direction you want.
9. Laptop Projector Tripod
This item is optional and not needed unless you plan to use a bigger monitor like a TV to reflect your words instead of a tablet.
You can adjust it to different sizes and adjust it's angel.
This can be used for a variety of tasks such as presentation, recording, and speeches
It is also great for travel because of it being slim, light weight, and it being collapsible.
10. Teleprompter Software
There are quite a few teleprompter software's out there, but here a few of them that have worked well for us.
Voice Activated Teleprompter Software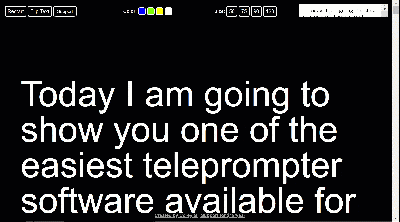 This software is one of the easiest to use and is available for laptops that use Windows and/or Mac.
It can only be used from the Google Chrome Browser.
The website includes several different buttons that let you import your script, copy and paste your script into the text box.
A flip text button flips your words if its being reflected off a mirror.
There is even a reset button to start from the top.
The biggest part is that it's voice activated and follows every word.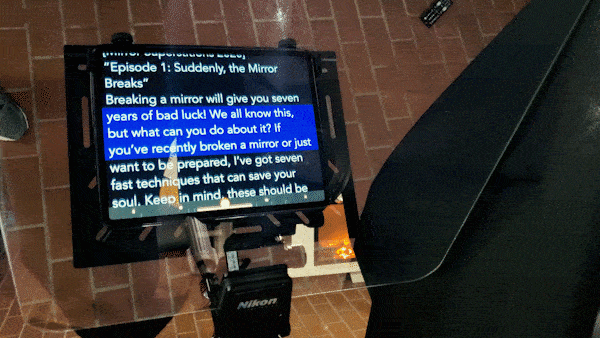 PromptSmart Pro is what we like to use for our Teleprompters.
It has mirror flipping, automatic scrolling, manual scroll, or a voice scroll.
The voice scroll is great, because it moves along with your voice when you speak.
You can use this app with iPad's, laptops, and TV's.
Step-by-Step process to building a Teleprompter
You will first begin by taking the heavy duty light stand and pull out the legs so the stand can be stable to hold the rest of the teleprompter.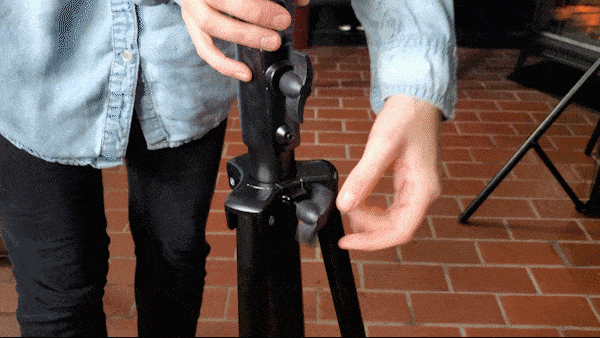 Now you want to take both the threaded screw adapter and the combo reversible thread adapter and attach them to each other
Next, you will screw the combines adapters onto your heavy duty light stand.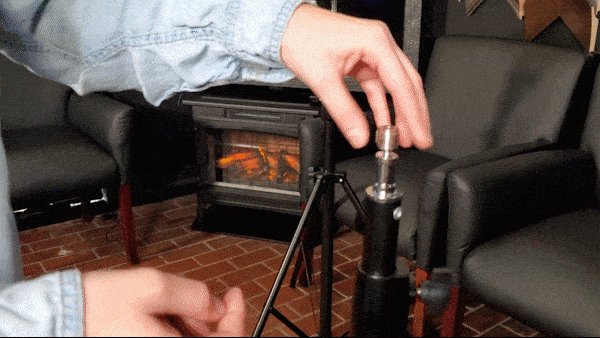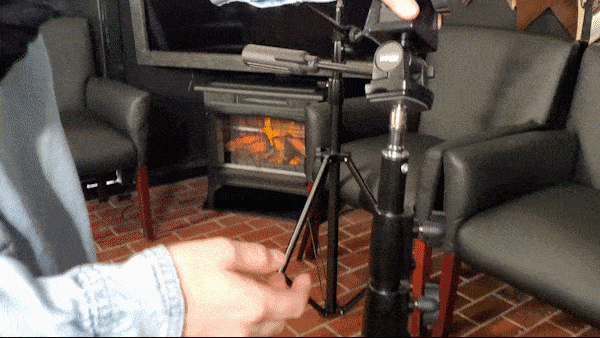 Then you will want to take the Nikon Window Mount and turn it upside down so you can attach it to the adapters on top the the light stand.
Now you will take the your 14″x 14″ Beamsplitter, or what every size you have, and place it onto your Nikon mount.
So the glass doesn't fall off, make sure to tighten the clamp onto the glass and make sure it is secure.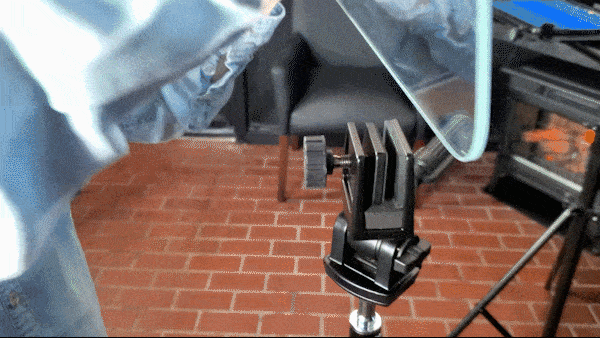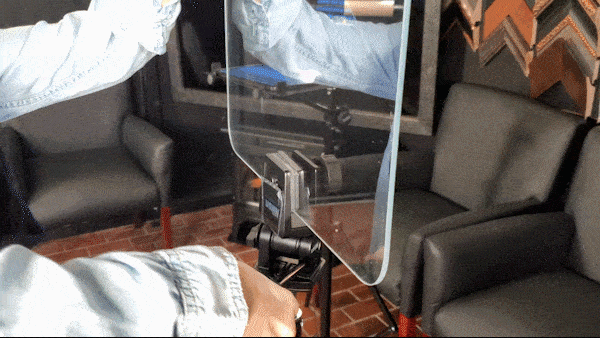 So you can achieve the angle for you glass, make sure to turn the lever and hold the glass while leaning it forward and bring it to about a 45 degree angle.
Just make sure to be holding the glass when you do this.
You don't want to accidentally have it drop forward and have the stand fall forward only to have you glass break.
Once that is finish, make sure that you adjust the light stand where the beamsplitter glass is at least eye level to you or the speaker.
You will want to make sure to test the mirror with a finger nail test so you are using the side that doesn't have ghosting.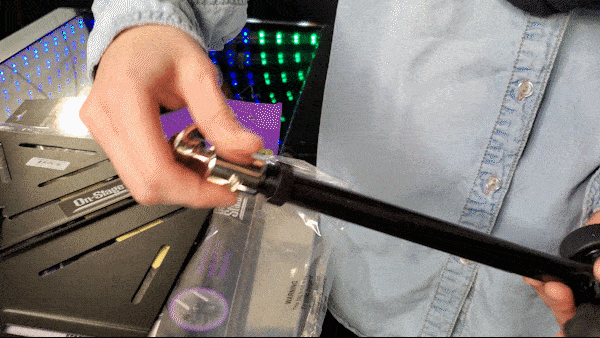 Next you will want to take your side mount boom and attach the trap adapter with it.
Flip your laptop tray upside down and attach the tray adapter to the tray and make sure its tightened.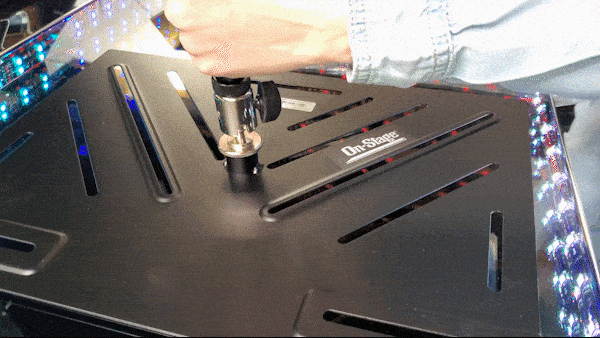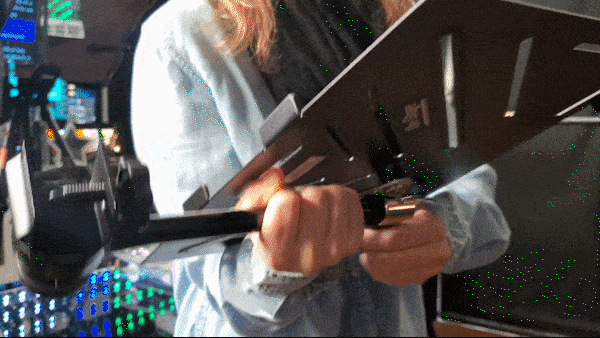 Make sure to loosen the big knob on the tray adapter so you can angle the laptop tray to your desired specifications.
Now you will want to attach the boom side mount to the light stand.
Make sure to tighten the screw with the nylon tip so that it stay secure on your light stand.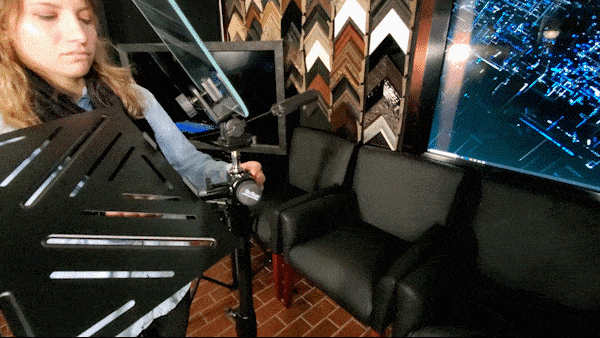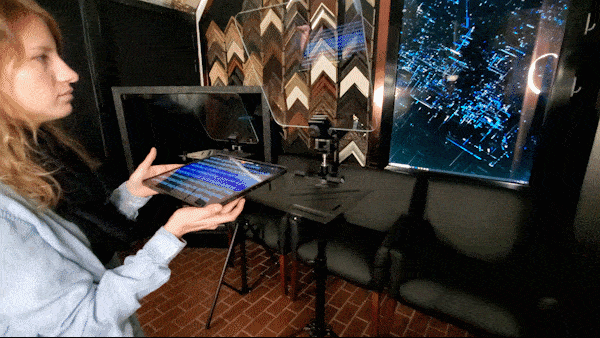 Last but not least, you can place your tablet/IPad onto the laptop tray.
You can adjust if needed to make sure your glass reflects you text perfectly.
If you have any questions or need help, comment down below, email us or you can contact us directly online!