Question: have you ever wanted a Teleprompter and you love DIY? Well, great news! We are here to show you how to create your own Teleprompter!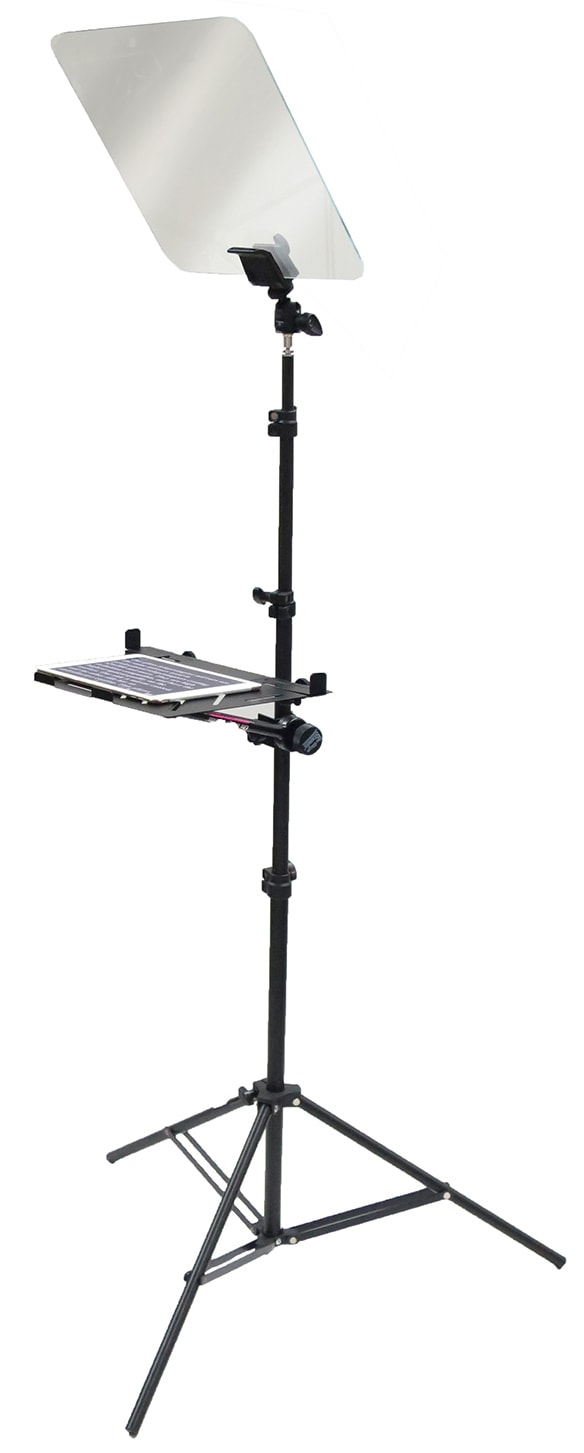 Teleprompter Information
First, what is a Teleprompter? A teleprompter is just a transparent mirror at an angle over a display. The beamsplitter glass is highly transparent, so you can record straight through it. The reflection of the script is invisible on the backside, so only the speaker can see it. The best angle for your mirror is 45 degrees or more, and you can fine tune the angle to center your display. Clamp it down hard so it doesn't go crashing to the ground!
If I want to make videos and record through the mirror, is that possible? The answer is yes! Teleprompter glass is an optical beamsplitter with anti-reflective backside that eliminates the double reflection you would see in regular glass. It has a special dielectric mirror coating on low iron glass, which minimizes tint and allows a crisp reflection of the script. You can easily use a DSLR, camcorder, or other recording device directly behind the glass on a tripod. You'll need to black off the back so you're not capturing errant reflections off the backside of the mirror.
For a detailed visual of how to create a Teleprompter, watch our Step-by-Step Guide video to assist you through the process.
ADD VIDEO (ONCE COMPLETED) HERE
How to Build a Teleprompter
It's super simple to build a Presidential Teleprompter–if you know what you're doing.
A heavy duty light stand is the foundation of your Teleprompter. It adds a lot to the stability of your unit at a minimal cost.
Imagine delivering your lines on a windy day and your mirror becomes a sail in the breeze.
Pro tip: if you're using a teleprompter in a windy environment, you can stake it down or use weighted bags.
Teleprompter Parts
I've researched extensively to find the best highest quality parts at a reasonable cost. Let's run through the complete list of parts you'll need to build a teleprompter.
1. Light stand – Use a heavy duty stand for extra stability.
2. Beamsplitter glass – Rounded corners give a nice visual appearance while preventing accidental bumping and breaking. The size will be your maximum viewing area, so the bigger the better. I'm using an 18″ x 18″ in this video. For comfortable viewing, I recommend a minimum of 14″ x 14″ or larger.
3. Black cloth. This can be a black sheet or pillowcase, but I use a black backdrop cloth because it smoother and blocks more light. You can simply cut it to a larger size than your glass and use binder clips to hold it in place. If you're recording outside on a sunny day, you'll want to double down on your cloth to prevent all light from getting inside.
4. Binder clips – Holds the black cloth in place while recording through the glass.
5. To hold the glass, I use a Nikon 7070 Window Mount. Normally mounted on a car for binoculars, when turned upside down it's the perfect clamp for a teleprompter because it is easily adjustable. 
6. You can place a Tripod with your camera mounted on it just behind the light stand
7. Use an Auray 5/8″ Male to 3/8″ & 1/4″-20 Female Combo Reversible Thread Adapter to connect your Nikon window mount to the light stand.
8. On-Stage MSA9508 Posi-Lok Side Mount Microphone Boom – Connects the laptop tray to the stand.
9. On-Stage MSA5000 Mic Stand Laptop Mount – A laptop tray for your stand.
10. On Stage MM01 Ball Joint Adapter (to connect the two and adjust the angle of the laptop tray)
11. Pyle projector stand – This is an optional part, it's useful if you're using large displays such as 32″ and above.
12. Choosing your Display: A Samsung TV which has been mirror flipped makes a perfect display for a large scale teleprompter (simply press mute+182+power to access mirror mode from the hidden menu).
To learn more about how to mirror flip your screen, you can watch our step-by-step video!
13. I also like using an iPad for fast Teleprompting because the app I use has automatic voice scrolling.
I simply place my iPad on the laptop tray. One cool feature I just discovered: An iPad can also be plugged directly into a monitor or TV using a standard USB-C to
HDMI adapter. This provides for an easy view on a big screen while still being able to use my favorite teleprompter apps.
Assembly of the Teleprompter
Assembling the Teleprompter is quick and easy. It takes 60 seconds or less!
Open the tripod and attach the glass clip to the top.
Adjust the angle and height of the mirror so the center of the mirror is at eye level.
Position your camera just behind the glass also at eye level and adjust the zoom for a wide angle.
There you have it! The master Teleprompter setup!
Applications
Now, I'm going to take you through some of my advanced tips, so you can use your Presidential to create fast, killer scripts.
Teleprompters have two different uses: giving speeches and recording videos.
When recording videos, the camera will go behind glass, as seen here, and there is a black shroud blacking off the mirror side to prevent reflections into the camera lens.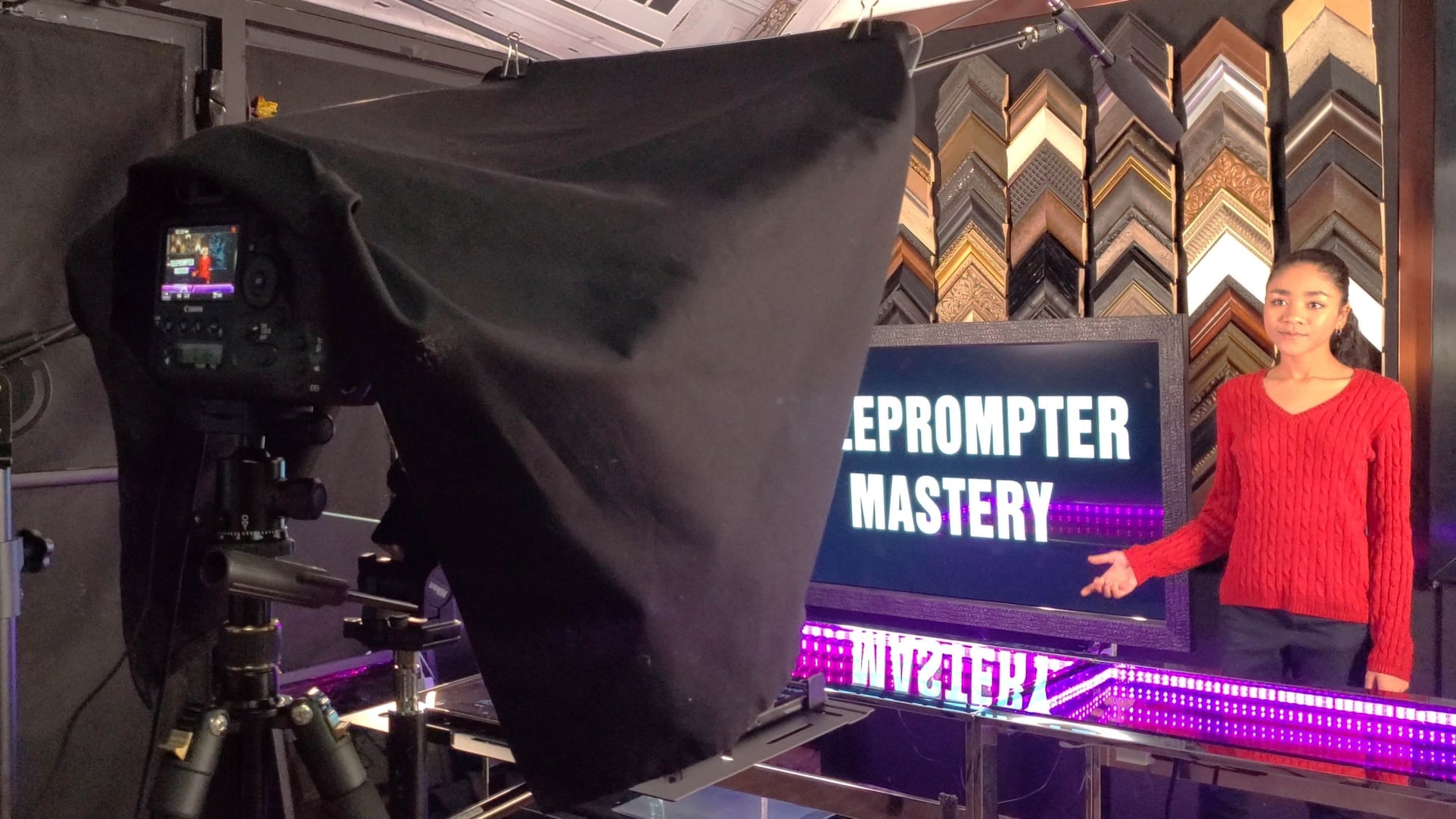 If you're making a DIY Teleprompter, you don't have to empty your wallet for fancy hoods. A black sheet will work great, just attach it with binder clips.
YouTube Video Mastery
A teleprompter allows you to write a detailed script ahead of time and then execute it on location.
Planning ahead will give you time to thoroughly think through all the very best ideas and props you have put into your video.
You can plan a batch recording session, where you plan several scripts ahead and record them all at once in a single day.
When you're nailing your lines, there's less useless footage which wastes your time in editing.
Your ideas are presented in order, so your videos are chronologically structured.
Hiring Talent
A teleprompter allows you to use talent without wasting time and money.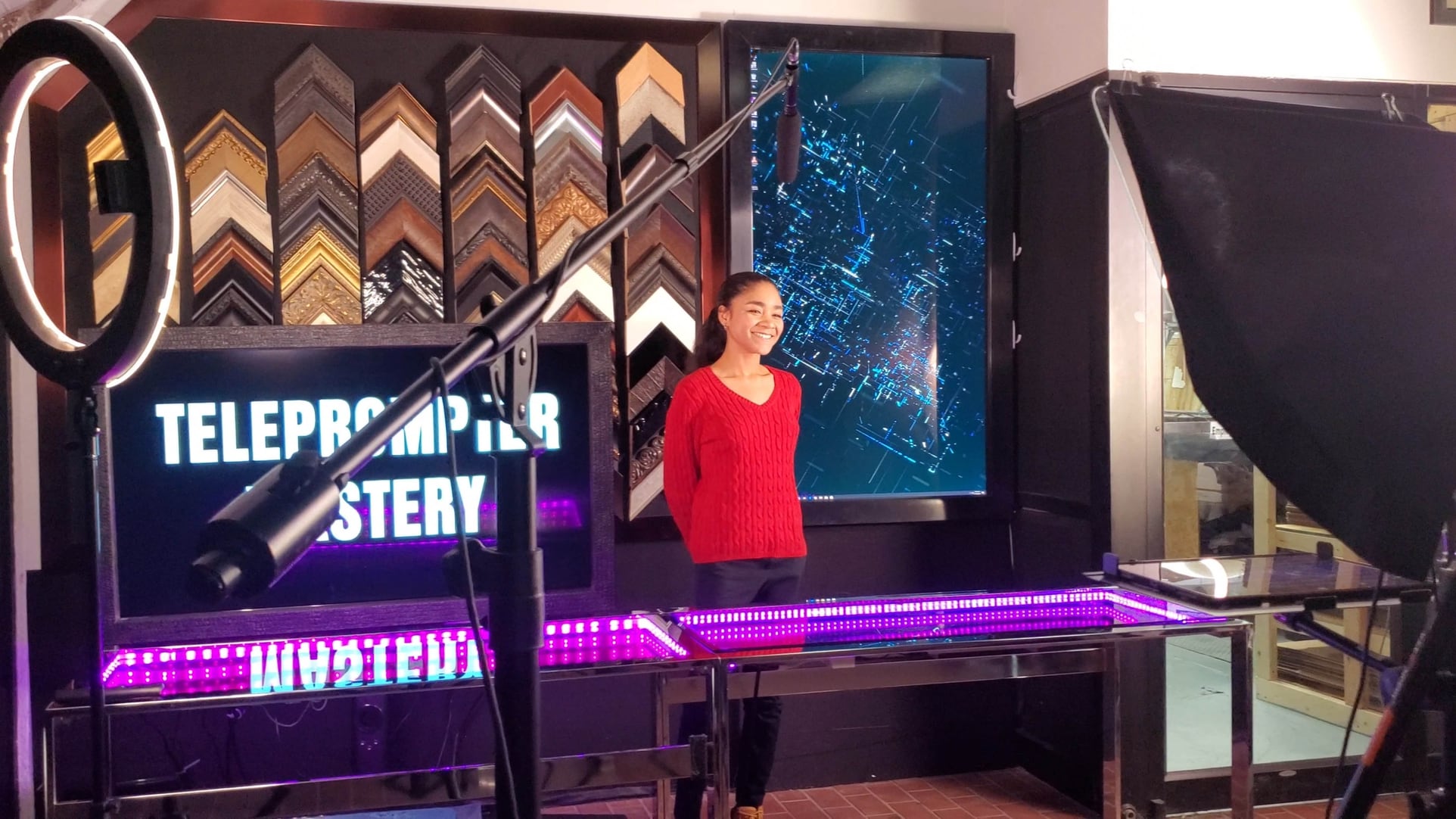 When delivering speeches, lectures, or advertisements, the talent expects their script to be ready.
In an advertisement with a celebrity you don't want to waste precious time, which you're paying a pretty penny for.
The information can be pre-scripted and accurately presented. Can you imagine a Hollywood director telling his actors to just wing it? "Just make me a good movie!" he says.
Training Your Talent
Another great use for teleprompters is for training your talent, it makes content creation fast and easy. You can work on a detailed script before they get in front of a camera.
This allows them to review the material, add their own ideas, and take their time to practice on voice and body language, which is often the biggest stumbling block.
They can rehearse to perfection with a maximum amount of planning and comfort.
Going Live!
A teleprompter rocks when going live. That's why teleprompters are used in news broadcasts and politics, where it prevents them from forgetting lines or information.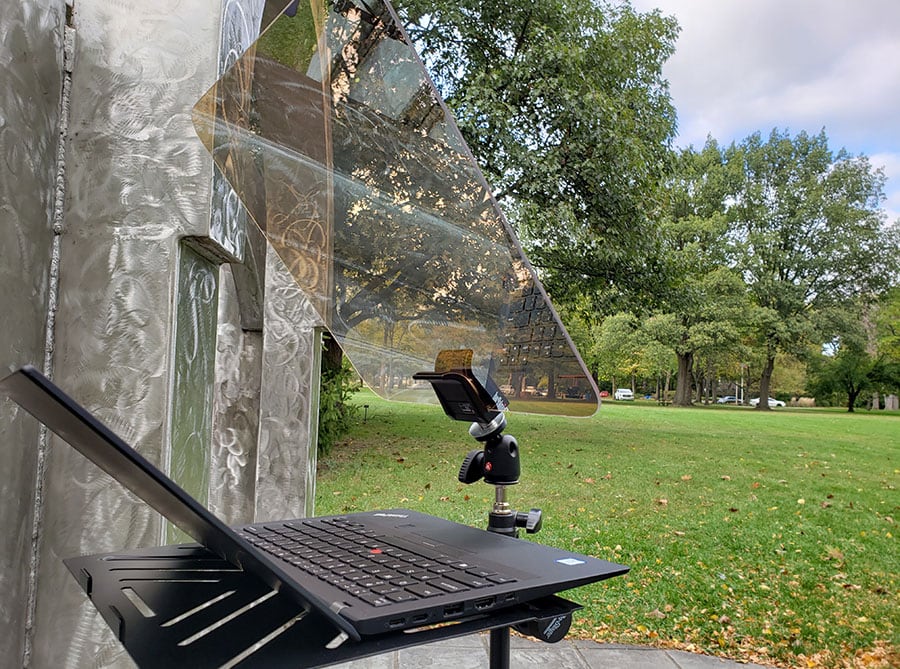 A teleprompter can avoid painful embarrassment of saying bad things at a time where the whole world is watching and there are no "take backs."
Longer Videos
You can't just "wing it" when delivering long scripts.
Detailed scripting of your productions allows you to construct long, thorough videos without a ton of takes. Your long recordings can be content rich, well organized, and delivered with a relaxed, confident attitude.
What Display Should I Use?
Honestly, the bigger the better.
You'll need to be standing a good 8 feet away from your camera so you capture your body from the waist up in the frame. Also, the font size is key for readability.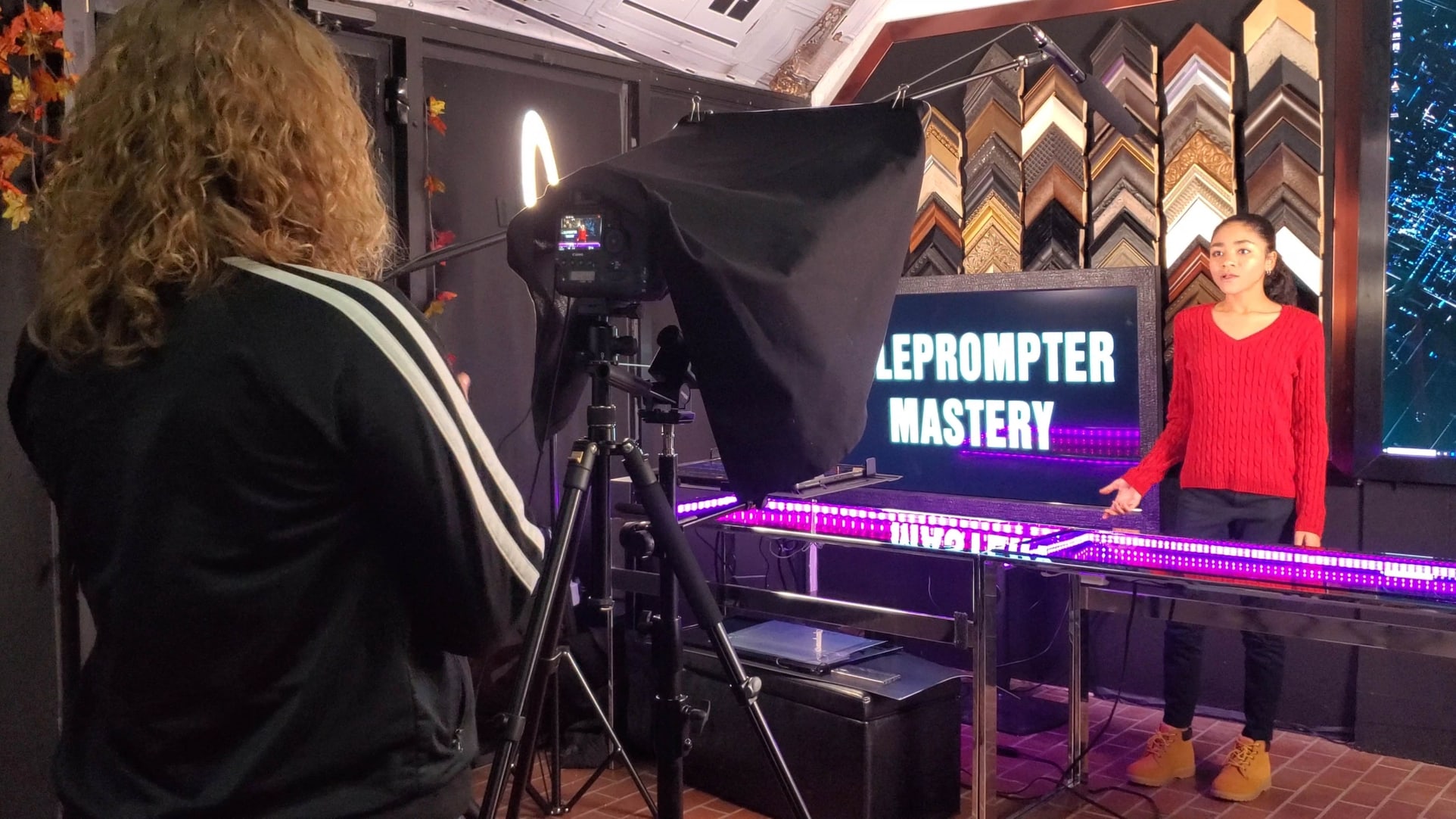 You can use a laptop or tablet as long as you adjust the tray so that it's close to the top of the presidential.
Laptops and tablets have the advantage that they're cordless so they're portable and fast to setup, or you can use a large monitor and plug it in using an HDMI cord.
A larger display can be positioned close to the ground, allowing more comfortable reading with less eye strain and movement.
I hate squinting and straining to read my lines, I don't have the time for that.
Should you use a cameraman?
In my productions, I have a cameraman watching the Canon camera to make sure it is always rolling.
I even have an additional camera person on a gimbal to get those extra spicy shots.
The cameraman helps by advancing my script when needed as well.
That frees up my arms for body language instead of fumbling with doo-dads.
My cameraman gives me instant feedback on my voice, body language, lighting, and script.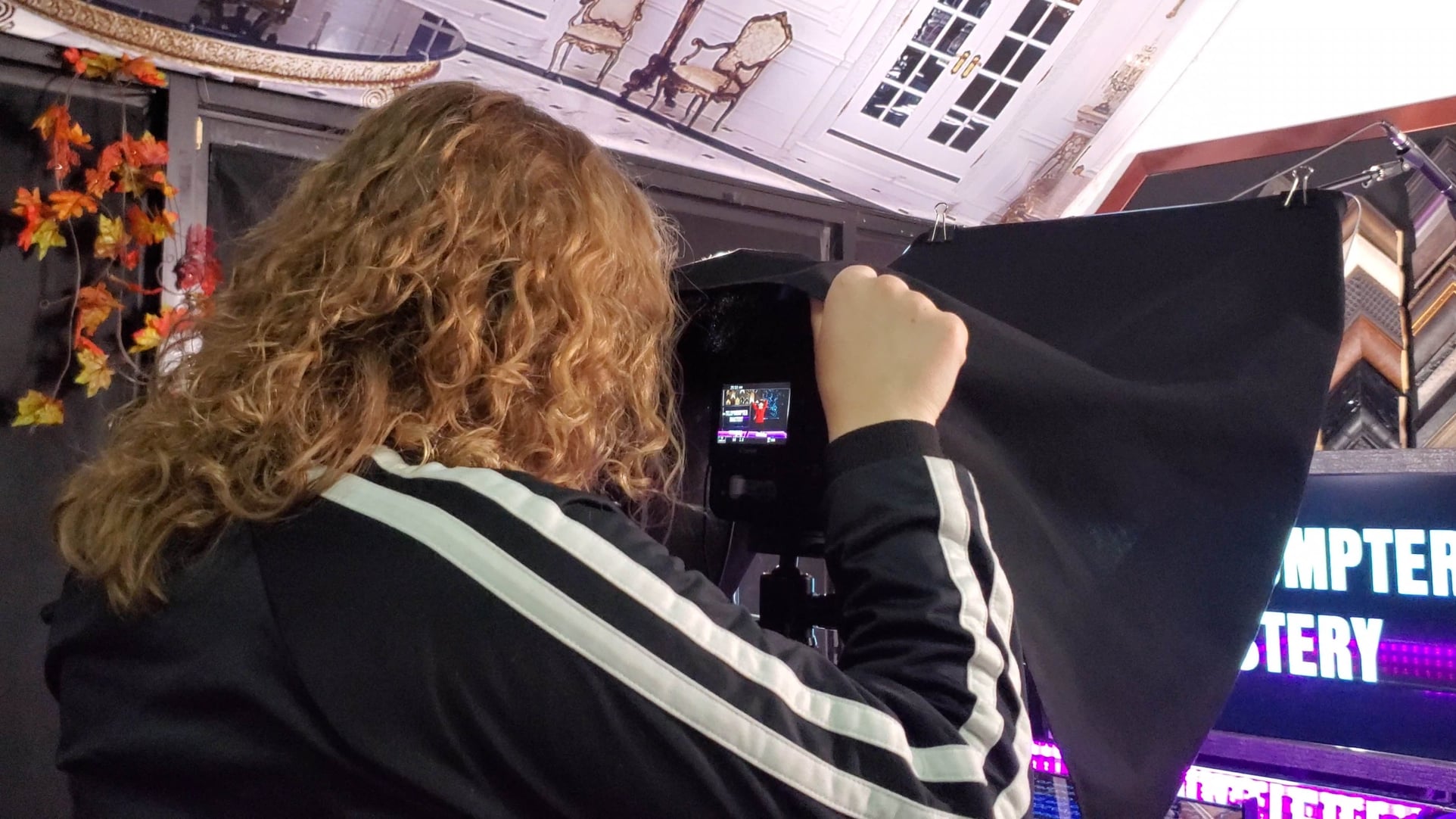 She checks to make sure all devices have proper settings and fully charged.
Having that extra help speeds up setup so I don't have to fumble with cameras and other equipment.
In real life, there's always something that "magically happens" at the last moment to screw up a video shoot. Worse, you might not even realize it until after the shoot and it's too late. Your cameraman is your magic genie who prevents recording tragedies to happen.
What Software Should I Use?
Right now I am super loving the teleprompter.me software when using a laptop and the Prompt Smart when using an iPad.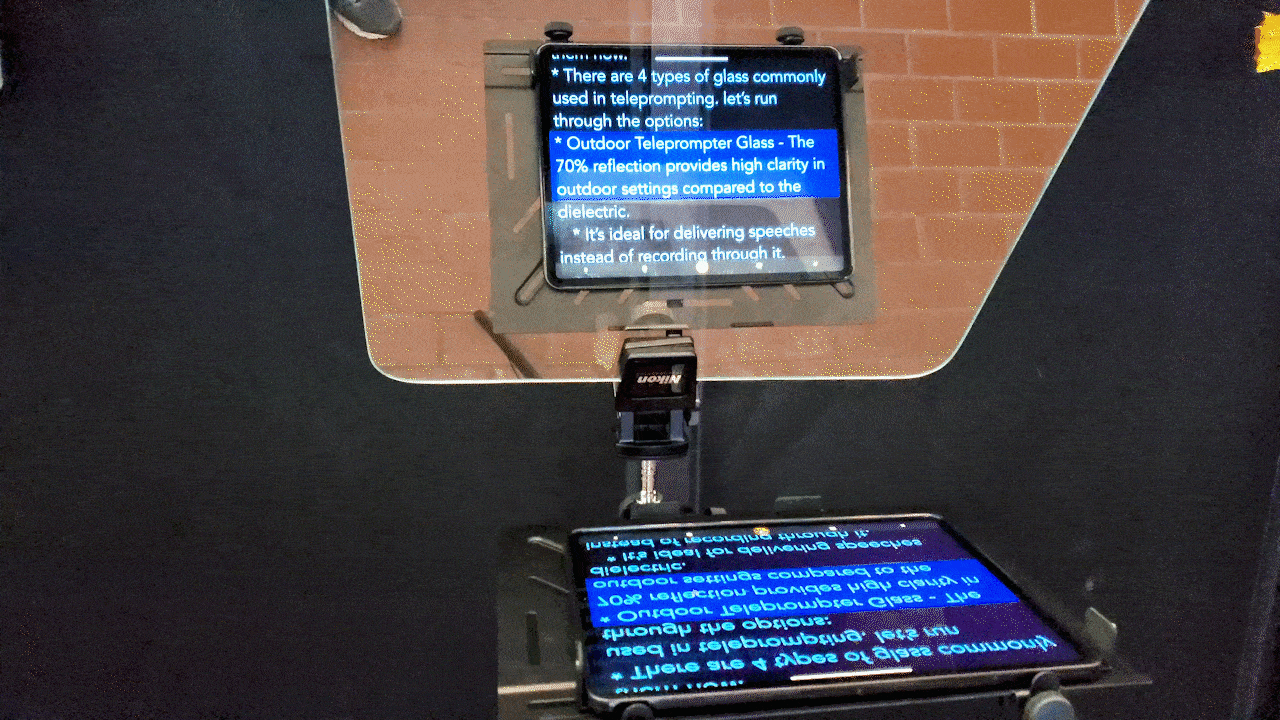 Both of the software options I mentioned use voice activation and saves A LOT of time! 
(Sometimes it is a little glitchy but the pros outweigh the cons in my opinion.)
I love writing my scripts with Google Doc because they can be easily imported to the iPad software as well.
Working with it in Google Docs, I can quickly convert my script to other content such as websites, blog posts, manuals, and e-books as well. Which is super amazing as a content marketer! You need all forms of content, not JUST videos.
What input devices should I use?
It depends on your setup but if you are using traditional software with no voice activation, a Logitech presentation remote is small and easy to put into your pocket between lines.
Devices such as a foot pedal sounds great in theory, but they're loud in awkward in practice.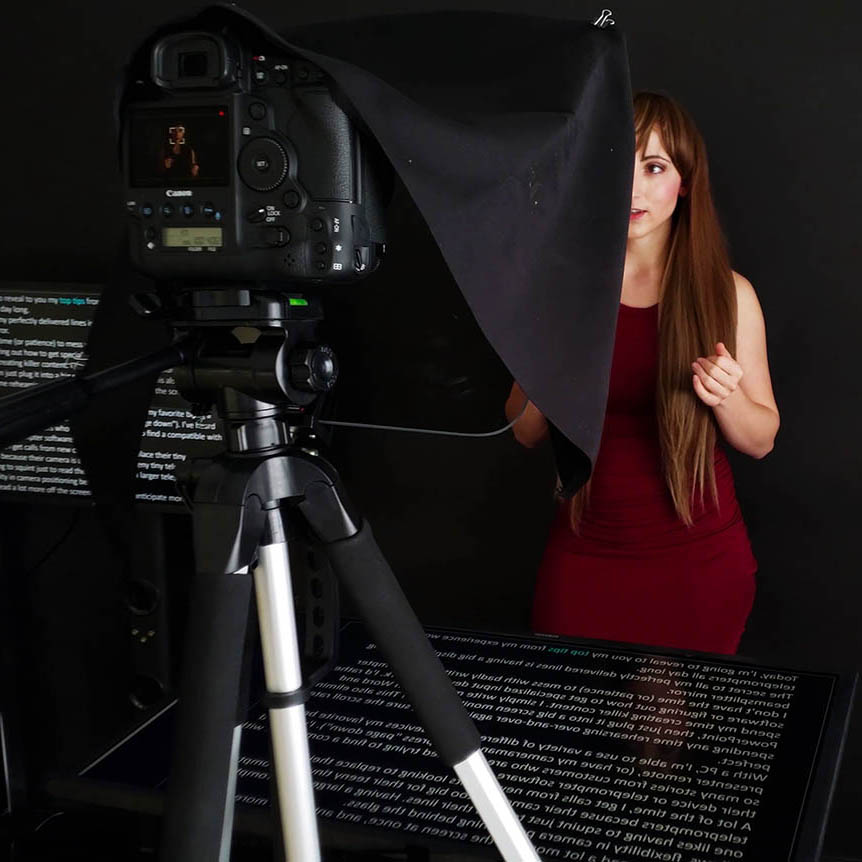 Overall, Teleprompters are a popular and polarizing piece of equipment that I feel is essential to be successful in the marketing world. Thank you for reading, and stay tuned for more updates!